Nigerian Student Athlete Expelled From NICEGA For Not Reciting National Anthem
A student of the College of Education Akamkpa, Cross River state, identified as Esther Edet has been reportedly expelled from the 19th Edition of Nigerian Colleges of Education Games, NICEGA  for allegedly refusing to recite the National Anthem.
According to reports, the student infringed the rule that states that all students and participants must be on their feet while the national anthem is rendered, but Edet was seated and didn't recite the Anthem along with other participants. However, it was gathered that Edet reportedly said she was week and couldn't stand up during the anthem, and she didn't flout the rule intentionally.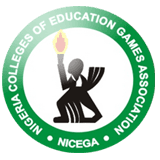 According to the NICEGA National President, Dr Sanusi Mohammed, who expelled Edet; "All participants must obey the rule and play by them, any athlete who goes contrary to the regulations of the games will be shown the way out. And that is why I am expelling this participant for her attitude and disposition when the National anthem was sung. This will serve as a deterrent to others to always obey the rules of the game."